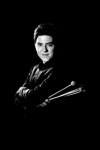 Born in Luxembourg in 1988, Music has always been an integral part of Laurent's life. Like the rest of his family, he started by playing in a local marching band and later entered the Conservatory of Music in Esch/Alzette (L), which marked the path to his diverse career as a percussionist.
Combining forces with Rachel Xi Zhang while studying at the Conservatorium van Amsterdam, the duo known as Joint Venture Percussion Duo, has performed all over the globe from the U.S. and Mexico to Europe and China; in such prestigious halls as the Concertgebouw Amsterdam, National Center for the Performing Arts Beijing and Philharmonie Luxembourg.
Laurent appeared as a soloist with orchestras such as Orchestre de Chambre du Luxembourg, Shenzhen Symphony Orchestra, Harbin Symphony Orchestra, City of Southampton Symphony Orchestra, Musique Militaire Grand-Ducale and European Union Youth Wind Orchestra.
Laurent's passion for new music has led him to work with contemporary music ensembles such as the Ives Ensemble, the Atlas Ensemble and Looptail in the Netherlands; in Germany, he works with Ensemble S of Hannover and in Luxembourg with United Instruments of Lucilin and the Orchestre Philharmonique du Luxembourg.
In addition, he has  held teaching assistanceships at the Conservatorium van Amsterdam, at The Boston Conservatory and was a faculty member at the Zeltsman Marimba Festival.
Laurent received his bachelor diploma from the Conservatorium van Amsterdam studying with Peter Prommel, Arnold Marinissen, Victor Oskam and the percussion section of the Royal Concertgebouw Orchestra: Nick Woud, Jan Pustjens, Gustavo Gimeno and Mark Braafhart and his Masters degree and Artist Diploma at The Boston Conservatory, studying with the world famous marimbist Nancy Zeltsman.
Laurent endorses Marimba One, currently based between Luxembourg (LU) and Amsterdam (NL).