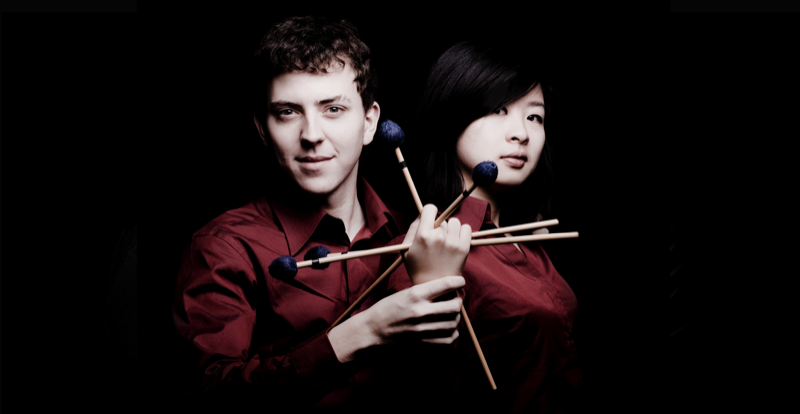 Le tombeau de Couperin (1914 - 1917)*
I. Prélude
II. Fugue
III. Forlane
IV. Rigaudon
V. Menuet
VI. Toccata
Ma mere l'oye (1910)*
I. Pavane de la belle au bois dormant
II. Petit Poucet
III. Laideronnette, imp ratrice des pagodes
IV. Les entretiens de la belle et de la b te
V. Le jardin féerique
Pavane pour une infante défunte (1899)*
Ravel - Dances & Fairy Tales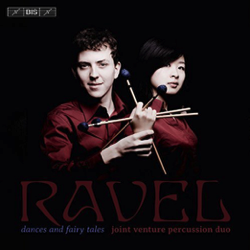 "A treat for audiophiles and percussion fanciers alike; a duo to watch". - Music Web
"With new colors and a great sensuality, Joint Venture's Ravel transcriptions for marimba and vibraphone give an added value to the music and convey some incredibly tender and emotional moments." - Pizzicato Magazine
For various reasons, many great composers that we love never got around to write for the marimba and the vibraphone, but that hasn't dampened our passion for their music. Like many others, we have instead begun to make our own arrangements and adaptations, creating a new soundscape for the emotions forever encapsulated in these works, as well as a new world for our own instruments.
The two of us met during our studies at the Conservatorium van Amsterdam and it was for study purposes that we arranged the Prélude from Le tombeau de Couperin, as Maurice Ravel happened to be the favourite composer of both of us. During the process of arranging, practising and performing, we noticed a great deal of improvement in our performance as a duo, both musically and technically. It felt as if playing Ravel brought our duo closer together, sometimes from us trying to merge our timbres together into a single inseparable sound and sometimes from the opposite wish to produce a whole rainbow of different timbres, as in one of Ravel's own orchestrations. We felt more inspired actually playing his music instead of just witnessing great performances. Playing music destined for other instruments, we also found great satisfaction in trying to overcome any limitations posed by our own instruments.
Ravel's story telling took root deeply in our hearts and eventually we decided to arrange the entire suite. Ma mère l'Oye and Pavane pour une infante défunte then seemed the perfect works to complete this portrait of Maurice Ravel's dances and fairy tales seen through the sounds of the marimba and the vibraphone.
© 2016 Rachel Xi Zhang and Laurent Warnier, Joint Venture Percussion Duo